At the time of year that most people in South Africa break away for a holiday, (the lucky ones that is), or relax at home, it has unfortunately become necessary to burst a few bubbles and challenge the mainstream narrative. South Africa is teetering on the brink and staring into the abyss as it stumbles into oblivion in the new year and a new decade. Just how bad it will be will become clear soon enough. Let those with ears listen…
We are facing a total onslaught of totalitarian and full blown communism enforced on us by a criminal black globalist mafia in the ANC and EFF, whilst at the same time having to face the collapsing economy it created, spiraling national debt which we won't be able to pay back for generations – meaning we will probably end up as a possession of China – collapse of ALL state owned enterprises, #ParasiticParastatals like Eskom, PRASA, SAA, Post Office, SABC, Denel, SABS, SASSA, etc. whilst continuing to face ever increasing racial discrimination, which will mean that minority white children will struggle to get jobs and be forced to flee the country.
Crime will as always go up as well. It is just a question how many of us will be murdered, robbed and raped next year. A collective blindness and political correctness is stifling us like a straight jacket as even someone like Thuli Madonsela incorrectly says we are on the right track. The truth is rather we are on the right track to hell.
This country has maybe 2-3 years left before total failed state status. That is all. The ones getting out now are lucky and doing the right thing. The rapid decline will go hand in hand with unknown famine and suffering of man and animal as we have seen in most other African nations that followed the same Socialist path fueled by globalism.
You ANC nothing yet. Sorry to spoil your holiday but it's better you know. Keeping in mind the ANC and EFF's plans for property expropriation without compensation, a new basic education law that will enhance the gutterment's ability to take away single medium Afrikaans schools and a law that will tighten the ANC's grip on sports and even allow the sports minister to select the Springbok team, so you can enjoy your new and enhanced BEE team on a Saturday…
The trajectories are so similar, it is almost as if all African nations are being lined up and prepared for something big? Think "One Man, One Vote" – ONE TIME. South Africa is the last piece of a century long puzzle of African manipulation and genocide. Probably the easiest continent to conquer out of the 7.
What does the future hold you might ask? Well a simple look at what is happening at the rest of the world, will show that a now deliberately weakened South Africa, (What? You thought the end of apartheid was about ending racism? Really? No, it was all about removing a regional power), will now easily be sucked into the globalist One World Order, possibly as a One Nation Africa run by the AU (on the EU model with a common currency with which to enforce political ideology) controlled by Communist China and Russia.
Africa has over 7,000 tribes, 2,400 languages yet only 54 countries, and these 54 will now be dissolved into one under the African Union (AU) with the help of the World Government in waiting, the UN – mission accomplished. Genocide complete. Thanks to "Incrementalism" which started this New World Order project a century ago – Communism 101 folks.
Why are the parastatals being destroyed? Is it really coincidence that they are ALL going down at the same time? Is it just blatant corruption, ineptitude and negligence? Deliberate negligence which permits ineptitude and tolerates corruption, yes. The squandered money is only plastic money that was printed by the globalist Reserve Bank and it is cheaper than a war. Human lives mean nothing to these world supremacist. Remember Stalin and Lenin and forced starvation and ethnic cleansing of the Holodomor? Now the weakened, desperate structures can be merged into larger regional structures owned by larger power bases – Communism 101 stupid.
Create a problem, wait for the reaction, then offer your pre-determined solution to the crying desperate masses who take anything you suggest. Already the masses are supporting land expropriation without compensation. Wakey wakey… hello Venezuela
Who will win in the next decade? African corruption and ineptitude or globalist world supremacy? Either way, we lose…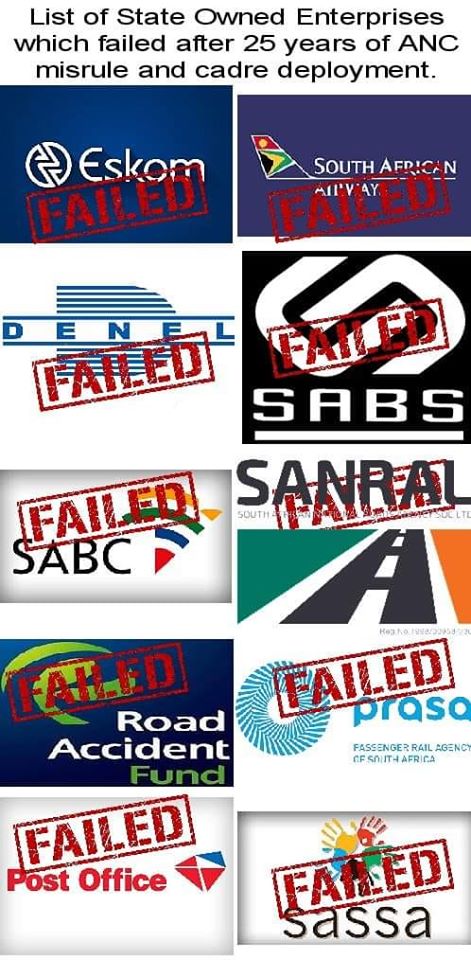 See also: NWO's Ramaphosa wants single currency for Africa. Has the Euro disaster not taught them anything?
---